Films & Descriptions
Featured Films in the 2019 Port Orchard Film Festival
Directed by Clare Chun
Filmed in and around Seattle, AFK tells the story of Sadie, 36, an aspiring singer songwriter, fired from her job, who tries to boost her career using social media platforms only to watch her ex friend and ex boyfriend "take the on-ramp to her dreams." She AFK's her life and hits the road in search of the true meaning of success and happiness on her terms and her timeline.
Directed by Ben Rigney
Reverie uses abstract imagery of city lights and traffic to paint the nostalgic picture of the evening drive.
Directed by Chris Paraskevas
Actor loves Actress. Actress has boyfriend. Filmmaker is jealous.
Director: Jeremy Camp
Two friends enjoy the day in a salt flat.
Directed by Jennifer Hardacker
Werifesteria may be a made up word, but it describes the impulse to wander the forest longingly in search of magic and mystery.
Directed by Jeremy Camp
A young woman imagines the different ways she'd murder an annoying man she meets at the bar.
Directed by Anthony Venezia
Redemption is my third and final non-narrative experimental film that deals with the death and resurrection of the human essence. This is not about a physical death but a spiritual one. The themes are my abstract interpretations of actual events that I have experienced. Those experiences dealt with the death of hope and spirit and their restorations.
Directed by David Finklestein
An older woman (Alice Teirstein) opens a closet door and finds a key to her confused, fading memories. Hearing and vision loss isolate her, and her mental confusion keeps her suspended in the tactile sensations of the immediate present.
Space Needle Looking Upwards
Directed by Nik Kleverov
Rebuilding a marvel representing Seattle's cultural identity tells a story about an icon that draws eyes and inspires architects around the world. Standing on the world's first glass rotating floor 500 feet in the air is exhilarating and unnerving! Learn about the Space Needle and hear from the people who created it in 1962, its stewards through the years and look through the glass to the future!
Directed by Dustin Morrow
"Black Pool" is a gripping thriller about a revenge-fueled, cat-and-mouse game of imprisonment and interrogation. Thirty years ago, Michael's life was shattered by a shadowy figure he saw for only a fleeting moment. But tonight, through a chance encounter, he believes he's found the man responsible for ruining his life. And he's going to make him pay. But does he have the right man? And how far will he go for the truth?
A Soldier's Dream: The Milt Feldman Story
Directed by Eduardo Montes-Bradley
In the face of his Nazi captors this POW stood proud as an American GI Jew. Milt Feldman was captured during the Battle of The Bulge, and kept prisoner at Stalag IV-B. The film evokes his war-time experience and his childhood growing up during the depression era in Brooklyn, NY where he remembers the German Bund parading the streets with the American flag next to the German Swastika. A personal and intimate portrait of an American hero
Directed by Austin Smagalski
A young man poses as a long-missing child, but as doubts arise about his identity he must discover his new family's darkest secret before his own is revealed first.
Directed by Doug Synder
In the military sci-fi short film LIONS, two estranged sisters wage a different kind of war.
Directed by Jeremy Mowery
A robot love story about going against your programming.
Directed by Lenni Uitto
During turmoil from terrorist chem bomb attacks Clive and his son must escape the city in search of safety
Directed by Anita George
It's carpe diem for a couple of small time grifters on Christmas Eve 1934.
Directed by Peter Lively
A couple struggles to load a dishwasher.
Directed by James Sunshine
The old-man fight of the century: Mortimer "The Bear" Cunningham defends his World Heavyweight Championship against newcomer Geoffrey Planck in this live PPV event from the basement of the Belmont Village Senior Living Center.
Directed by Kevin Saxby
In the shadows of a derelict jazz club, a private investigator named Steve meets with the adulterous man he's been following for the past month. He has explicit photos of the man's affair, and an ultimatum to boot: Steve won't go to the man's wife with the photos, IF the man gives him whatever is locked in his briefcase. Seems pretty straightforward. So why is the man laughing?
Directed by Conner Von Kuetzing and Austin Milner
When two amateur Skim Boarders accidentally challenge local beach legend, Hotshot, to a duel they must seek out a mysterious Skim Guru (and beach bum) to teach them they ways of the Skim Board in hopes to best Hotshot in the duel and win over the hearts of the local residents of their Island hometown.
Directed by Marek Kłosowicz
Dominika Kulczyk reaches out to Papua New Guinea, where she meets local people who have killed others, including children, in order to follow their local practices.
Directed by Colton Van Til
A female journalist tries to break a controversial story in her conservative hometown and must decide between Aberdeen and her career.
Directed by Eric Monteiro
A down on his luck fisherman finds a magic fish hook and soon realizes that it gives him the power to catch whatever his heart desires.
Directed by Meghan Boehman
A retelling of the Brothers Grimm fairy tale of the same name.
Directed by Amber Rainey
Paige is a typical teenager. She wants to spend her time online and gaming not doing her chores and homework. But every time her mother Eleanor reminds Paige of her responsibilities, somehow they're instantly complete... as if by magic. Is Eleanor going bonkers or has Paige made a deal with a fairy?
Directed by Will Tebo
Two "cursed" stepsisters attend a circus known for its magic acts, but do not expect what they find.
Directed by Pasquale Ellery Encell and Steve Encell
Eagle Feather is an animated, family friendly adventure which is based on real events and follows a young Native American girl and her father through the wilds of the American Northwest as they use all but forgotten traditional lore and shamanism to find a poacher who has been killing their spirit animals, American Eagles.
Directed by Jamie Jean
While investigating the origins of a bizarre tradition held yearly in his hometown, filmmaker Jamie Jean discovers controversial claims of discrimination and racism in the wake of disaster in 2011. This inspiring story is proof that it takes more than a couple of tornadoes to dismantle the fierce loyalty and relentless pride of the water balloon-flinging Blue Devils of Cordova, Alabama.
Directed by: Jo Schuftan & Zulie Alvarez
Directed by Lynnette Cabrera
Money Don't Grow on Trees
Directed by Emmett Kerr-Perkinson
Directed by Emmett Kerr-Perkinson
Directed by Kittytron Churro and Zoltron Monsieur
Directed by Patrick Penta
Directed by: Nathan Boehme
Directed by: Joseph Abarca
Directed by Ernie Smith
A fur trapper in the Pacific Northwest during the 1800's is sent on a futile journey to find his missing, possibly dead, brother. When a more fruitful opportunity arises, the fur trapper is left with the repercussions of his avarice, including: increasing delirium, physical manifestations of guilt, and the all too-real creature stalking him through the woods.
Directed by Wally Chung
A war of words leads to an epic standstill.
Directed by Lenni Uitto
Siblings and their friend go on a road trip to their parents house when they unexpectedly witness something they shouldn't have...and worse...the radio plays a creepy tune...
Directed by Carl Oswald and Shay LaPierre
There's no need to search for they will seek, the depths of your mind have risen and leaked.
Directed by Shay LaPierre
In the midst of ridding her home of a poltergeist Lilith Edwards comes to learn the entity in her home will never be tamed.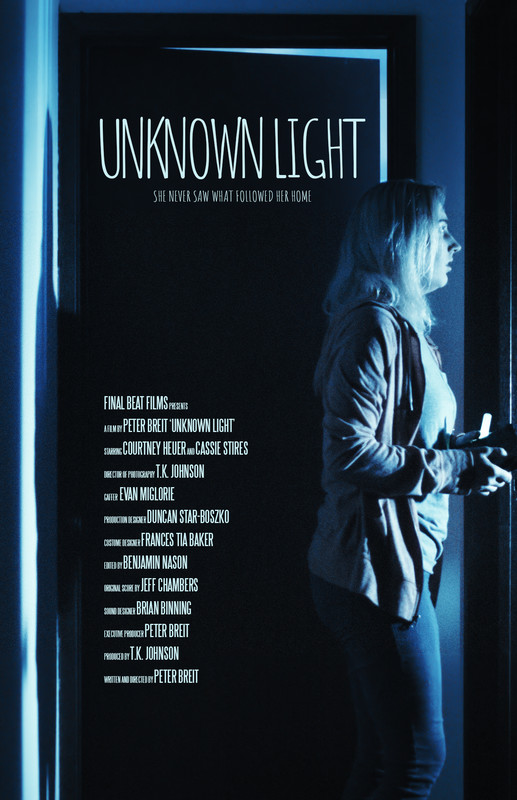 Directed by Peter Breit
Days after returning from an interstellar research mission, June is sure something terrible has followed her home. She attempts to warn her sister, but the ever-adventurous Jackie needs to know more.
Directed by Joshua T. Wagner
Jim will soon find out that his new apartment is not what he expected.
Directed by Terance Miller
Real estate agent Cindy Luzak gets stuck with a house she can't sell because it's haunted by the ghost of a little girl.
The Lost Footage of Leah Sullivan
Directed by Burt Grinstead
An unedited memory card from a lost camera shows Leah Sullivan's school project about the infamous Mulcahy Massacre.
Directed by Giovanni Covini
Southern outskirts of Milan. Gratosoglio, a muslim-majority neighbourhood. Four seventeen-year-old girls and two boys of the same age, Christians and Muslims, challenge themselves with Shakespeare's Romeo and Juliet, led by a young actress. Are Montagues and Capulets like Christians and Muslims? What is the meaning of falling in love with your enemy? And who is the enemy today? What is the meaning of speaking the truth, belonging to somebody, to a faith, to an ideal? How do Romeo and Juliet hold their hands today? How do they kiss? During each Act the kids will read, rehearse, discuss, meet. They will look around and into them, they discover each other as they discover the surrounding world. A journey to discover what Shakespeare is writing today. To make us understand these times, and ourselves.
Directed by Ethan Graham
"The Other Walla" shows senior year in the lives of two students from Walla Walla High School, as they face challenges unique to first generation college students from immigrant families.
Hoan Alone: Personal Stories from the Bridge
Directed by Aaron Johnson
Milwaukee's Daniel Hoan Memorial Bridge is the crown over Summerfest and has become one of the city's most recognizable landmarks. But it's also a popular site for suicides. This animated documentary explores the issues of the bridge and suicide through three intimate interviews. Follow animator, Aaron Johnson, as he shares the stories of Dave, John, and Mary.
Directed by Luke Holton
A documentary film which discusses the importance of place names (toponyms) in the preservation of Alaska Native languages. The burning of Douglas Indian Village in 1962, and construction of Gastineau Elementary School over Tlingit graves in 1953.
Directed by Amber Rainey
When a stranger steps from the shadows of a Revolutionary War-era cemetery, Rachel discovers a friendship that transcends time and bridges the space between life and death. Sometimes understanding comes from where we least expect it and we grow stronger by seeing the world through another person's eyes.
Old Blue Eyes Ain't Nothing
Directed by Shelby Smout
An elderly man on his deathbed has accepted his fate, but his visiting grandson diverts the conversation from the present by reminiscing on the past.
Directed by Ivan Sainz-Pardo
"The moving story about a man locked in a Portuguese Fado"
Directed by David Golden
Alone in a small room, a man is confronted with questions that have no answers, in a world where there are no lies-- only a lack of understanding.
Directed by Steve Hosford
A college student begins to suspect that his philosophy professor may need a reality check.
Directed by Christin Call
An experimental dance film in three parts.In this surreal story, a mother and her children look back on the family dynamics and tensions of an upbringing based on Platonic ideals.
Directed by Kelly Hughes
Music video collaboration between director Kelly Hughes and Italian Post-Metal band Postvorta. Hughes filmed most of the footage in Kitsap County in WA State (Port Orchard, Gorst, Sunnyslope, Bremerton, Suquamish) with a mostly local cast.
Directed by Scott Ennis
A cinematic sonnet with a doll's heart as a metaphor for love.
Directed by Derek Quick
An Asian American Soldier During WWII is imprisoned in Nazi Germany as his family in Manzanar California is sent to the Japanese American Concentration camp.
Directed by John Cole
Four minutes. So much can happen within that small amount of time. For instance, a woman could feel the unnecessary feelings of fear, anxiety, and nervousness.
Directed by Faraz Arif Ansari
A first-of-its-kind silent LGBTQ film in India, Sisak makes waves before the visuals of this short hit the shore. Set in the fast-paced environs of the usually bustling Mumbai local train system, it details a romance that develops slowly and intoxicatingly, nestled in the silences and quiet comforts of the end-of-day train journeys.
Directed by JC Ford
An ordinary afternoon tradition turns into a moment of truth when one young girl takes the brave step to share a tragic story with her teammates.
Directed by Brady Findell
A young teen receives her first smartphone and leaves childhood behind.
Directed by Scott Ennis
A cinematic poetry look at the dichotomy of symbols.
Directed by Burak Kum
"Capitalism is religion. Banks are churches. Bankers are priests. Wealth is heaven. Proverty is hell. Rich people are saints. Poor people are sinners. Commodities are blessings. Money is God." Miguel D Lewis
Directed by John Elliott
A short, experimental Super-8mm film capturing scenes from a decaying ghost town north of Roswell, New Mexico.
Directed by Jim Houston
The Power of opposing magnetic fields through the bobble-head Buddha, which can be inexhaustible energy, applied, adapted for many different applications!